In times where disinformation and propaganda have flourished as a threat to European security and trustworthy information is needed more than ever, the excellence of journalism is a critical component of societal resilience and social inclusion.
The European Excellence Exchange in Journalism (E³J) aims to unleash the combined potential of European values and cross-border collaboration for better journalism and a healthier information space. It provides a single-entry point for all types of media organisations, networks and individuals to connect, based on mutual trust and common rules.
E³J is carried out by Reporters Without Borders (RSF) in partnership with Free Press Unlimited (FPU), the Permanent Conference of the Mediterranean Audiovisual Operators (COPEAM), Community Media Forum Europe (CMFE) and the Community Media Institute for Continuing Education, Research and Consulting (COMMIT), and aims to become a network-based initiative that promotes ethical standards, offers training and capacity building opportunities and a forum for collaboration and peer-support.
Our unique consortium brings together a network of member organisations, partnerships and individuals across Europe. By joining forces and expertise, it combines a range of preceding initiatives to build on, such as the Journalism Trust Initiative (JTI) and the Collaborative and Investigative Journalism Initiative (CIJI). With E³J's holistic and integrated concept, our project stimulates trustworthy information for European audiences interested in climate change, public health and migration.
This project is funded by the European Union under the Creative Europe Programme (CREA).
---
Resources
When it comes to public health issues, there is a great need for more trustworthy information, social awareness and space for debate.

In their latest report, "The Public Health Literacy and Community Media in Europe", CMFE and COMMIT examine current challenges and information gaps for public health awareness across Austria, Denmark, Ireland, and Spain. Their analysis explores the different framework conditions for the work of community media, but also for communication culture and health awareness in general. It also identifies good practices for the promotion of public health awareness.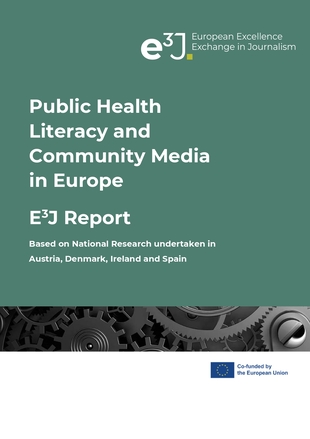 Read the Report
The Directory of European Journalism Networks
We are online on journalismdirectory.org with the first phase of a live, searchable database to help journalists working collaboratively in Europe find partners and discover networks of other reporters they can connect with, to expand their reporting, share skills, and collaborate for grants or complex stories. The Directory will include short descriptions of networks and hubs, search filters based on the networks' activities, specialisms and locations, as well as additional resources and case studies. If you're part of a journalism network or collective in Europe, FPU invites you to register to the Directory by sharing details here:
Register now
Funded by the European Union. Views and opinions expressed are however those of the author(s) only and do not necessarily reflect those of the European Union or the European Education and Culture Executive Agency (EACEA). Neither the European Union nor the granting authority can be held responsible for them.