E³J provides a range of opportunities and offers, including funding, capacity building and networking. It aims at equipping independent media outlets and individual journalists with resources, infrastructure and standards-based methods that enable them to practice high-quality, and ethical and accountable, collaborative and investigative journalism. Follow the latest news below.
Call for participants : Training of Trainers for Journalists
The programme is designed to support independent journalists with an ambition to develop training sessions or other learning/ sharing sessions within their networks, newsrooms or for external groups. It's a comprehensive programme that will equip experienced journalists to develop into potential trainers.
Participants will gain the ability to conduct engaging training events on any subject, understand theories of adult learning and apply them to create dynamic learning experiences for diverse participants and learn how to design training sessions that make a lasting impact. 
The course blends online and offline learning, with face to face sessions in mid-January (in Prague, TBC) and at the beginning of February in Amsterdam. It's a free course with all costs covered by the organisers. The deadline for applications is 24 November and you can find all the information about the training and the application process here.
To apply, please submit your application by responding this survey before the 24 of November, 2023.
Austrian community radio Station FREIRAD receives E3J grant from Community Media Forum Europe
September 29, 2023
From the FREIRAD community radio station in Innsbruck, Austria, we have received this report based on the ststion's receipt of an E3J Grant from @CMFE - Community Media Forum Europe:
"Since receiving the E3J Public Health Literacy and Community Media Production Grant, the project with the (now new) title "Anti-Körper: Frauen* im Gesundheitssystem" (engl.: Anti-bodies: Women* in the health care system) has succesfully started at FREIRAD. The editorial group started working together as a
team consisting of eight people in May, with our first editorial meeting taking place on May 25th, 2023 at FREIRAD.
... From July 6th to July 8th part of the FREIRAD production team travelled to St. Pölten for the COMMIT-workshop on public health communication. On July 7th, Yvonne Prinzellner prepared an extremely well-researched presentation on women's health, gender medicine, physical and psychological health, public health communication and sexualized violence against women for the FREIRAD-production team. The discussions about the topics were very fruitful and possibly led to a new cooperation with one member of the St. Pölten production group. FREIRAD also plans to air the public health-shows of the Campus & City Radio 94.4 team in St. Pölten...
The @COMMIT-workshop was great and led to the agreement that FREIRAD will air the public health productions of Campus and City Radio 94.4 of St. Pölten and vice versa. We in Innsbruck are all highly motivated and can't wait to air the first results of our production series!"
The photos shared are FREIRAD's from the workshop in St.Pölten, the home of the second Austrian E3J and CMFE - Community Media Forum Europe grant recipient.
Award of Eight Community Media Production Grants with a Public Health Focus
April 19, 2023
Community Media Forum Europe (CMFE) and COMMIT are pleased to announce the result of the selection process nominating eight stations from four countries.
The grantees are:
Campus & City Radio St. Pölten (CR 94.4), St.Pölten, Austria
Freirad, Freies Radio Innsbruck, Innsbruck, Austria
Radio Bazaar, Aarhus, Denmark
Radio Ronde, Ronde, Denmark
Claremorris Community Radio, Claremorris, Ireland
Color Comunitaria, Malaga, Spain
Radio Jobato, Coslada, Madrid, Spain
Radiopolis/92.3 fm, Sevilla, Spain
Find out more about the grant here.
(Closed) Apply for Community Media Production Grants with a Public Health Focus - deadline for proposals March 31, 2023.
Community Media Forum Europe (CMFE) and COMMIT are pleased to invite community media in four focus countries to present their proposals for production grants. The four countries are: Austria, Denmark, Ireland and Spain.
In each country two community media will be awarded the grant based on the criteria presented below. The grant includes € 3.750, participation in a 2-day workshop in the grantees' own country and language focusing on Public Health programming in community media. After finalisation and approval of the productions, the grantees will be invited to take part in a European conference (January 2024).
To support the work of the grantees, research has been carried out in the four countries around public health literacy and community media. This is available for grantees and will also inform the workshops.
Full details for the call can be accessed here.
Please submit your application before 31st of March 2023 to birgitte@empowerhouse.dk. If you have any questions, feel free to contact us through the same email.
Launch of the Italian translation of the JTI App and JTI Campus
Tuesday, February 28, 2023
We're excited to announce the launch of the Journalism Trust Initiative (JTI) self-assessment and the JTI Campus in Italian. 
JTI is a mechanism that contributes to building a healthier information space, based on an international professional standard available to media organizations. It includes certifiable criteria for media transparency and professional editorial processes. The standard is intended for media of all types, sizes and geographical origins.
To discover the Journalism Trust Initiative website in Italian, visit: https://www.journalismtrustinitiative.org/ 
To find resources and become compliant on the Journalism Trust Initiative (JTI) international standard, please check: www.jti-campus.org
Find more information about the E3J project on www.E3J.org 
10 emerging European journalists receive support to report on climate change
15-17 February 2023

Free Press Unlimited organised a Workshop on Climate Journalism as part of its 2023 Climate Journalism Fellowship. This Fellowship supports 10 journalists from across the EU to increase their confidence, capacity and collaborative network to improve their reporting on climate change.
The training, followed by a coaching trajectory, will enable journalists to better inform their local and European audiences by creating stories that go beyond highlighting the problem and come with constructive solutions. Stories which can be meaningful to local communities and decision makers.
Climate workshop in Amsterdam
A 3-day workshop took place in The Netherlands, with in-depth sessions for 10 journalists. The workshop balanced both thematic sessions and expert panelists each morning, as well as skills-based collaborative sessions in the afternoons. The various modules handled topics like accessing and interpreting relevant data, using this to tell locally-relevant stories and hold elected officials accountable for climate action. But also on building relationships with scientists, and on innovative climate storytelling formats.
During the workshop, the 10 fellows also went on a field trip to Rotterdam to explore how the city manages water. Here, they visited the Keringhuis Publiekscentrum.
The visit gave the fellows a deeper understanding of the critical role that water plays in the Earth's ecosystems, and how climate change is affecting it. It also helped them understand the magnitude of these kind of projects and what knowledge is needed to effectively communicate complex scientific information related to water and climate change to the public. This specific excursion was chosen because it shows which problems the Netherlands are facing, and how other countries might use their expertise to cope with floods. The fellows were also introduced to relevant scientific publications and reports on the latest research in the field related to water and climate change in the Netherlands.
Coaching and mentoring fellows
A two month mentoring journey will follow after the workshop in which each fellow will produce two articles related to climate change, and receive help with the publication and dissemination. The fellows will also be coached on pitching story ideas for collaborative climate stories. In total five pitches will be awarded with a small grant.
Trainer and coaches during the fellowship:
"Climate change is a pressing global issue that has become a defining element of European life. No matter what your focus is as a journalist, climate change either already does or should play a key role in your reporting. That's why it's critical for any young journalist nowadays to build a solid understanding of the topic and its implications for politics and policy.
But understanding where to begin on this journey can be difficult. Local newsrooms often lack in-house training and thematic knowledge support. This is why I founded Climate Tracker. Our mission is to support journalists to understand climate change, and to gain the confidence they need to develop powerful stories for their audiences." - Chris Wright, Founder and Managing Director, Climate Tracker
"I am excited to be part of the climate fellowship, where I will have the opportunity to share my experiences and insights with others. I hope to inspire more journalists and media organizations to focus on environmental reporting and to produce impactful stories that raise awareness of the critical issues facing our planet." - Anass Bendrif, media expert, trainer and consultant focused on climate investigations and environmental reporting.
 
Testimonials:
"It was a very pleasant experience to spend these few days with you and big thanks to the organizers for their splendid work! And to Chris in particular for keeping our workshops both informal and funny and professional and informative at the same time - the ultimate combo! I am looking forward to the next step and also to collaborate with some of you." (Czech fellow)
"Just made my way back to Milan. Thanks again to FPU and the trainers for these insightful and playful days. They were intriguing and entertaining. Looking forward to what comes next!" (Italian fellow)
Other experts and speakers that participate in the FPU 2023 Climate Journalism Fellowship:
Nicolas Berghmans: Lead European affairs and energy and climate expert at the Institute for Sustainable Development and International Relations(IDDRI).
Meri Pukinaren & Hubert Thieriot from the Centre for Research on Energy and CleanAir (CREA).
Sarah Brown & Dr. Pawel Czyzak from independent energy think tank Ember.
Dr. Grace Mbungu: Senior Fellow and Head of Climate Change Program at African Policy and Research Institute (APRI).
Marta Montojo: one of Spain's up-and-coming climate journalists, now reporting on climate for EFE, the national broadcaster.
Dr. Izidine Pinto: researcher at Royal Netherlands Meteorological Institute.
Mohammed Chahim: Member of the European Parliament for the Dutch labour party since 2019, and the rapporteur for the Carbon Border Adjustment Mechanism.
Tais Gadea Lara: one of the leading international climate journalists in the world, especially in Spanish language reporting.
For the full article, click here.
European journalists reporting on migration gather in Belgrade to develop cross-border journalism
Belgrade (Serbia), 20-22 February
From 20 to 22 February 2023, a group of European journalists with prior experience on reporting migration gathered in Belgrade, Serbia, for a three-day capacity building action. The workshop was organized by COPEAM – Permanent Conference of the Mediterranean Audiovisual Operators in the framework of the EU co-funded project E3J - European Excellence Exchange in Journalism (Creative Europe Programme - CREA) and with the intention of fostering cross-border collaboration.
Participants composed a diverse group of media professionals in the field of photography, video production, news reporting, radio or multimedia, working for public broadcasters, newspapers, or as freelance content producers. Geographically, they originated from 9 countries: Spain, Italy, Belgium, Slovenia, Serbia, Greece, Bulgaria, Romania, and Georgia. Hosted by the public broadcaster of Serbia (RTS) in the premises of Radio Belgrade, the workshop included technical sessions, guest lectures, and group work. Topical discussions ranged from forced displacement, mixed migration, labour migration, and human trafficking. Professional and ethical challenges were also in the agenda, with conversations around working with vulnerable sources or dealing with migration-related mis-/dis-information.
The workshop was facilitated by international consultant and trainer Charles Autheman and included the participation of several specialized international institutions such as the United Nations High Commissioner for Refugees, the International Organization for Migration, the European Union Agency for Fundamental Rights as well as a Belgrade-based anti-trafficking CSO: Astra.
While some of the journalists have been covering migration issues for over a decade, the participants unanimously acknowledged the need for more coordinated efforts to broaden the diversity of media productions on this matter. This workshop is intended to encourage the production of new contents, even in a cross-border and collaborative perspective, and hopefully to contribute to better informing public debates in their respective countries and the broader European region.
COPEAM Holds Kick-Off webinar
February 3rd, 2023

The training and networking activity for journalists "Effective reporting on migration" has officially started.
This morning, the kick-off webinar, moderated by the lead expert Charles Autheman, has gathered the 20 selected beneficiary journalists coming from Belgium, Bulgaria, Georgia, Greece, Italy, Romania, Serbia, Slovenia, Spain. The group includes a varied range of professional profiles – freelance photojournalists, documentarists, video reporters, news editors from public radios and TVs – that will feed a positive mutual exchange of practices and knowledge about how to cover and portray migration-related issues.
In the following days they will benefit from an introductory on-line self-guided module, to be then ready to attend the 3-day workshop in Belgrade (20-22 February) that will be hosted in the historical venue of Radio Belgrade.
CMFE/COMMIT Report on Public Health Awareness
When it comes to public health issues, there is a great need for trustworthy information, providing individuals and communities with a solid basis for making informed decisions. The recent pandemic has exposed the weakness and the social imbalance in public health literacy, lack of social awareness and of space for dialogue and debate.

In their latest report, "The Public Health Literacy and Community Media in Europe", CMFE and COMMIT examine current challenges and information gaps for public health awareness across Austria, Denmark, Ireland, and Spain. Their analysis explores the different framework conditions for the work of community media, for the varying communication cultures and for health awareness in general. The report identifies good practices for strengthening community media's potential role in the promotion of public health literacy and awareness for all communities within the communities.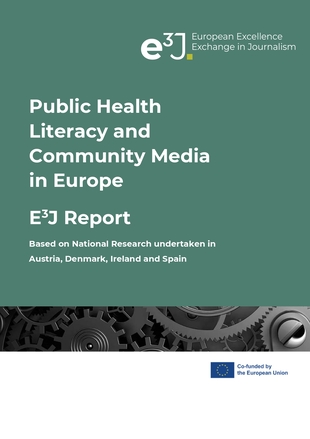 CMFE/COMMIT Strategic Approach
This note presents the strategic approach used by the CMFE/COMMIT team in their conceptualization of the E3J topical strand on the role and potential of community media in advancing Public Health Literacy.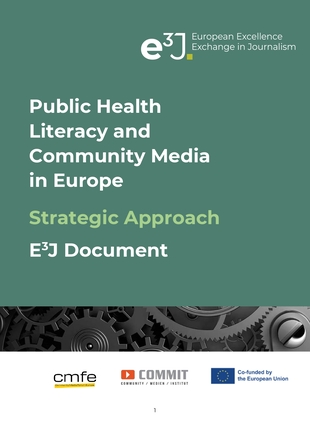 (Closed) Call for Applicants - Editor / Network Manager (12 months, consultancy position) - Deadline 8 February
Free Press Unlimited is currently looking for a freelance Editor / Network Manager to lead the development and delivery of a digital directory of European journalism networks.
Free Press Unlimited is an Amsterdam based international non-profit organisation that strongly believes that all people are entitled to have access to unbiased, reliable and timely information. Media play a crucial role in providing people free and unrestricted access to information and to monitor the authorities. Free Press Unlimited wants to make and keep objective news and information available to everyone, especially to people in countries without or with limited (press) freedom. We do this by supporting independent local media professionals and journalists.
 
The project
The consultant is hired as part of the European Excellence Exchange in Journalism (E³J) project, which aims to unleash the combined potential of European values and cross-border collaboration for better journalism and, as a result, a better informed society. E3J will provide a single-entry point for all types of media organisations, networks and individuals to connect, based on mutual trust and common rules. The project will facilitate a network of already established networks, hubs or newly launched groupings of journalists and media outlets and also propel topical excellence around the main challenges of our times - migration, climate and public health. E³J is carried in partnership between Reporters Without Borders, Free Press Unlimited, the Permanent Conference of the Mediterranean Audiovisual Operators (Copeam), the Community Media Forum Europe (CMFE) and its member Community Medien Institut für Weiterbildung, Forschung und Beratung (COMMIT). 
E³J is co-funded by the European Commission under the Creative Europe Programme (CREA, NEWS-Journalism partnerships).
 
Your challenge
The Editor / Network Manager will strengthen and multiply journalistic partnerships in Europe by providing already existing and emerging networks and hubs with a new platform and information hub that will make them more salient and interconnected with other like-minded initiatives. 

The Editor / Network Manager will be tasked to develop, coordinate and deliver a digital searchable directory of European journalism networks, which will grow over the course of the project into a comprehensive database of European media hubs, networks and initiatives, both established and informal.  
The directory aims to be an overarching platform that brings more efficiency and sustainability to collaborative journalism, by gathering the existing dispersed information in one common space.  
The directory will be built in a user-friendly way, with content translated to several European languages, and offer the possibility to search through European networks based on their specialisation, geography, and other criteria.  
The directory will also feature profile stories and case studies about European journalism networks, in order to make the resource a valuable place for anyone looking to learn about a collaboration or network in Europe. The directory will encompass journalism networks across the European Union countries, as well as candidate countries. 
The Editor / Network Manager will also be responsible for supervising cross-border journalism productions realised within the E³J project. 
 
Your profile 
You work at the intersection of project management and journalism and can easily switch between the two;
You are familiar with the European journalism ecosystem and existing journalistic networks;
You like to experiment with new approaches and technologies, and feel at ease within a digital environment and social media platforms;
You are highly collaborative, value teamwork, and will ensure exchange of ideas and information;  
You have international experience and can establish trusted contacts with journalists and organisations in a variety of contexts,
You are able to independently conceptualise and deliver a project within the given time frame and budget and have an outstanding track record that speaks for itself, 
You have strong editorial skills and are able to produce and coordinate engaging quality content for the website and for other purposes within E³J;
You are a good communicator and network builder;
You are attentive to details while holding the broader helicopter view in sight; 
You embrace diversity and have an open mind and interest in working with diverse organisations and individuals;
You are able to receive and give constructive feedback and are solution-oriented; 
You are proficient in written and spoken English;
You are available for regular online check-ins and the occasional travel for team and consortium meetings. 
 
We offer 
The opportunity to work with like-minded, enthusiastic people who love what they do, a dynamic, international NGO and informal work environment that offers ample opportunity for initiative; 
Freedom to develop the digital directory and its content (profile articles and case studies); 
Access to a large international network; 
A consultancy position of 15 days/month for a duration of 12 months (March 2023 until end of February 2024); 
An output based freelance contract. 
Free Press Unlimited uses fair selection criteria based on equal opportunities.
 
Are you interested? 
If you are curious and interested to join us as a consultant, please send your resume, short motivation letter and monthly fee (based on 15 working days per month) before 8 February 2023 EOD CET to: e3j@freepressunlimited.org.
We reserve the right to contact selected applicants before the deadline date. Only shortlisted applicants will be contacted. For questions about the position, you can contact us at: e3j@freepressunlimited.org. A screening can be part of the selection process.
(Closed) Call for Participation: Effective Reporting on Migration #1 - Capacity-building action for journalists

Background Information
This capacity-building action is developed by COPEAM – Permanent Conference of the Mediterranean Audiovisual Operators in the framework of the EU co-funded project E³J - European Excellence Exchange in Journalism (Creative Europe Programme - CREA), which aims to unleash the combined potential of European values and cross-border collaboration for better journalism and a healthier information space.
Within the E³J project, COPEAM is in charge of organizing 2 international training workshops dedicated to "Effective reporting on migration".
The first of these workshops will take place in Belgrade from 20 to 22 February 2023 and be open to a group of media professionals from the European Union and other eligible countries. (See note 1)
A second workshop will be organized by COPEAM at the end of 2023 for another cohort of journalists in a different country.
Training Format
With migration being a highly technical, debated and sensitive subject in the Euro-Mediterranean region, which goes beyond mere reporting on figures, and given the media's fundamental role in shaping narratives and forming public opinion, it is paramount that journalists have the necessary knowledge and skills to report about such topic in an evidence and rights-based manner.
The "Effective reporting on migration" trainings – taking place both online and in person – aim to enhance the quality of media coverage of migration, by providing the latest available knowledge and expertise to ensure that journalists and media professionals have a firm understanding of the complex issues related to migration - and their impact on policy-making, politics, economics, demographics, environment, security, education and cultures of the region - and to better inform the public on this composite and often polarizing question.
Expected results:
The participating journalists have acquired a basic firm understanding of the complex issues of migration;
Increased knowledge and capacity among the targeted journalists and media professionals to report on
migration effectively and improvement of balanced migration narratives;
The beneficiary journalists are trained on how to access reliable sources and data on migration in Europe;
A network of experienced international journalists is established and collaborates by sharing information and
skills about covering and reporting migration.
Preliminary Training Session & Workshop
The activity will consist of two inter-connected modules:
Preliminary Training Session (Online, early February 2023)
An online preliminary phase will take place in early February 2023, consisting of one self-guided module and a short introductory webinar (both in English). This activity will provide participants with context about migration trends in the Balkan region. It will include topics such as irregular migration along the so-called "Balkan route", human trafficking, labour migration and insights into some historical patterns in the region.
Effective Reporting on Migration Workshop (Belgrade, Serbia, 20-22 February 2023)
An in-person 3-day workshop will take place in Belgrade on 20-21-22 February 2023, hosted by RTS- Radio and Television of Serbia. This workshop will focus on the key challenges of migration reporting and, more specifically, on the central role of images in portraying migration. Through the analysis of migration imagery, participants will enhance their skills on sensitive issues such as: ethical reporting, working with survivors of trauma or dealing with groups with special needs such as children. The workshop is intended to take place during the same week as another activity organized by IOM Serbia for journalism students, the Global Migration Media Academy, and the University of Belgrade. Synergies will be established between the two activities.
Lead Expert
Charles Autheman is a French independent consultant. He has been organizing and facilitating training workshops for journalists, trade unionists and communication professionals for the past 10 years in over 20 different countries, mostly in the Middle-East, Africa and South Asia. From 2012 to 2014, he managed an EU-funded project dedicated to the promotion of balanced and quality information on migration in eight countries (Mali, Senegal, Mauritania, Morocco, Algeria, Tunisia, France and Spain). More recently, he has coordinated the production of the first media-friendly glossary on migration and the ILO media toolkit on forced labour and fair recruitment.
Other experts (IOM, local NGOs) and experienced journalists in the field of migration will be involved in the training.
Applications
The training is free of charge and open to a limited number of journalists coming the EU and other eligible countries (see note 1).
Travel and accommodation costs in Belgrade will be covered by COPEAM, thanks to the project's funding. A more detailed programme and the practical information will be communicated later on.
Applicants must meet the following criteria:
Being a professional journalist (TV/Radio/Press/Online/photojournalists); • Having a prior knowledge of migration-related issues;
Working proficiency in English.
Applications (CV of the candidate + short motivation letter) shall be sent to COPEAM no later than 20 January 2023 to the following addresses:
Micol Pancaldi mpancaldi@copeam.org; and Serena Laruffa: slaruffa@copeam.org
The selected candidates will be contacted after the deadline. A gender-balance approach will be adopted.
1. See eligible countries list here: https://ec.europa.eu/info/funding-tenders/opportunities/docs/2021- 2027/crea/guidance/list-3rd-country-participation_crea_en.pdf
(Closed) Apply to the Climate Journalism Fellowship
Free Press Unlimited is excited to announce its 2023 Climate Journalism Fellowship. Apply for our free Climate Journalism Fellowship: Climate Change in the era of disinformation - challenges and solutions
 
Do you want to avoid fake news in Climate journalism?
Would you like to strengthen your communication skills with scientists and other climate experts?
Climate Journalism Fellowships will enable fellows to tell a better climate story and inform their audience by creating stories that go beyond highlighting the problem and come with constructive solutions. 
It is part of the European Excellence Exchange in Journalism (E³J) project, which aims to unleash the combined potential of European values and cross-border collaboration for better journalism and a healthier information space. By promoting the production and dissemination of quality contents and providing quality and science based alternatives to disinformation, Free Press Unlimited encourages a better media reporting of cross-border issues, while stimulating public debate and ultimately strengthening social cohesion.
This Fellowship under the E³J project is not only a great opportunity to gain knowledge about and skills in relevant climate topics of your choice, it's also a great chance to build your network around Europe and engage with journalists beyond your country/region.
The fellowship is open for 10 European mid-level journalists with a proven history of writing climate stories for local media in the past 12 months. If not, the candidate should be able to demonstrate his/her deep interest in climate stories otherwise.
Free Press Unlimited covers the full cost of travel & accommodation for the f2f workshop in Amsterdam and up to 8 weeks online mentoring for writing and publishing 2 articles on climate change topics of your choice. The topics may vary from coal mining, to air pollution, to energy, deforestation, biodiversity, water/floods, corruption, policy issues - whatever is relevant for your community or country.
The Fellowship
The fellowship will be held in English, and will consist of:
A F2F Workshop in Amsterdam (February 2023)
A 2,5 days workshop in Amsterdam, The Netherlands, with in-depth sessions for 8-10 journalists with various modules on accessing and interpreting relevant data, on engaging with climate data to tell locally-relevant stories, and using them to hold elected officials accountable for climate action; but also on relationship with scientists, connection of climate change with security, migration and health issues and – last but not least - on innovative climate storytelling formats.
Small group and individual mentoring throughout the fellowship when producing two articles on climate change (March and April 2023)
After the workshop, within an 8 week period, you will write and publish 2 articles on climate change relevant for your country/city/region. You will receive mentoring from our experienced trainer/mentor on the writing process, selection of sources but also with the publication of your 2 stories.
Opportunity to work on collaborative stories with other journalists from Europe (from May 2023)
After the publication of your articles, you will get the chance to apply for a grant of €3000 to produce one collaborative article on a cross-border climate issue together with a media outlet of your choice. You will be supported during your pitch by our experienced trainer/mentor. (This option is voluntary and will need the approval of your outlets supervisor.)
Commitments of a Climate Journalism Fellow
If you get selected for this opportunity, you'll be expected to:
Attend our face-to-face 2,5 day workshop in Amsterdam from 15 till 17 february 2023
Produce and publish 2 articles or other journalistic productions on climate change before 1 May 2023
Be available for online preparation calls/ small assignments before the workshop
Active participation in bi-weekly group/peers-to-peer/individual coaching sessions, in the 2 months after the workshop, supporting and inspiring fellow journalist with your input/feedback 
Who is invited to apply? 
We invite independent journalists from all EU countries and candidate countries: aspiring but also experienced climate journalists and editors, producers, desk-reporters and reporters who report on climate news. Freelancers who specialize in climate change are also welcome. 
Staff or freelance journalists from or residing in EU member and candidate countries, especially in Baltic countries, Visegrád Four and Southern Europe.
Journalists who work in media organizations that are state owned and/or editorially controlled by state authorities are not eligible for the Fellowship.
How to apply (procedure):
Please submit your CV and motivation letter, which explains the specific reason for applying, the climate change problem you want to address/know more about and the story you propose to write.
If you are working for the independent media outlets, you need to enclose a letter of support from your chief-editor (or network/ad-hoc group).
All applications need to be submitted in English. The applications will not be judged based on the level of the English language, but on the quality of the motivation and proposed content.
We will invite shortlisted applicants to the online pitching session where they can pitch their story to the Climate Journalism Consultant and two FPU staff and answer their questions. The presentation at the pitching session should be approximately 5 minutes and should follow the structure of the application form.
After the pitching sessions, we will select the Fellows.
Selection criteria
Motivation
Relevance of applicant's climate change issue / story
Reach and Impact of applicant's issue/story
Applicants' experience and approach to collaborative and ethical journalism
Commitment to the Fellowship trajectory
Additionally, the jury will look to ensure a balance across:
Target countries
Proposed story themes
Applicants' experience
Freelance and employed journalists 
 Timeline
January 2nd - January 15th 2023 - Ask us Anything about the fellowship, per email/call
January 15th 2023 - Application deadline
January 23rd to January 26th 2023 - Pitching sessions
February 1st 2023 - Fellowships announced
February 15th to February 17th 2023 - Workshop in Amsterdam
February 20th to April 20th 2023 - Writing and publishing the 2 articles and active participation in the group mentoring (peer-to-peer) sessions
May 2023 - applying for the cross-border collaborative grants on the issue for Climate Change (optional)
About our programme
Please submit your application before 15th of January 2023 to e3j@freepressunlimited.org
If you have any questions, feel free to contact us through the same email, e3j@freepressunlimited.org